Food and Coat Drive in the San Marco Neighborhoods
Saturday, 11/19, between 10 a.m. and 11 a.m.
Fall is here and the weather is going to get colder. We are lucky that we have a nice warm home and enough food for the cold winter ahead. Some families are not as lucky. Because of that, I would like to run a food and coat drive in the San Marco neighborhoods on Saturday, 11/19. The food donations will benefit the Food Bank of Contra Costa and Solano Counties and the coat and/or jacket donations will benefit the One Warm Coat organization. If you are in the San Marco neighborhoods, please be on the look out for a dedicated flyer with more information.
The Food Ba

nk also welcomes cash donations. They have made  arrangements with the agricultural community that they will be able to procure fresh produce with relatively little money. So every dollar goes a long way. An example I was given was that for $0.18, they would be able to get a pound of onions directly from the farmers. Here's a link for your monetary donation convenience:
The Food Drive Administrator also said that summer when schools are out is when they need food donations the most.    I will run a food drive next summer and I hope you will donate again at that time. Thank you very much for your generosity and kindness. It's a blessing to be on the giving end of the  equation.
If you are interested in running a food drive or a coat drive in your neighborhood. Please let me know. I'll be happy to connect you with the
coordinators. Let us work together to keep the community warm and the hungry tummies full. Thank you.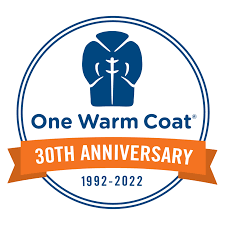 Another important thing to help survive the cold winter is to have warm clothes – coats, jackets, scarves, mittens, socks, etc. – to keep warm. If you could donate gently used items to help the less fortunate people to stay warm in winter, that would be great. However, if you prefer to donate money so the the One Warm Coat organization could provide warm coats for children and adults who need them. Please make your donation here and let us help the people in need and help them get through the cold winter by providing them with warm clothes.